AS Consultoria is a consultancy firm specializing in international and government relations focusing on legal, economic and foreign trade matters. Founded in 1986, the firm has consolidated its knowledge over the years, providing technical, strategic and governmental advice to a vast range of clients in Brazil and abroad.
Adimar
Schievelbein receiving
The Winner 2018 Trophy Awards
AS Consultoria is a consultancy firm specializing in international and government relations focusing on legal, economic and foreign trade topics. Founded in 1986, the firm has specialized in international trade disputes, notably in trade defense instruments such as anti-dumping, subsidies and countervailing measures and safeguards investigations, tariff and non-tariff barriers, customs issues, among other matters generally applied to imports and/or exports that require greater specialization. The firm provides technical and strategic assistance as well as expert advice on governmental issues to a huge range of Brazilian and foreign companies. In order to provide a comprehensive support to its customers, AS Consultoria has a highly skilled professional team on issues related to the World Trade Organization – WTO matters. AS Consultoria provides the necessary technical assistance to clients negatively impacted by unfair practices, giving advice and guidance, preparing and lodging applications, attending public hearings and following the administrative proceedings. On the other hand, unlike other similar firms, AS Consultoria has a considerable experience in defending foreign companies subject to trade remedies investigations in Brazil, preparing questionnaire responses, giving support to on-the-spot investigations, submitting information and lodging opposition.
Marco César Saraiva da Fonseca
The company's managing partner, Adimar Schievelbein, has an extensive experience in this field, including dumping, subsidies and countervailing measures, safeguards and trade barrier issues. He started his career in 1974 at the Office of the Minister of Finance. Subsequently he was appointed as the head of the Trade Barriers Division of the External Affairs Coordination where he remained from 1979 to 1986. At that time, he was responsible for drafting and coordinating the defenses of Brazilian exporters in various international litigation actions, especially those related to anti-dumping and countervailing investigations initiated by certain developed countries. Among the sectors affected by external actions, it is worth to mention textiles, footwear, steel, concentrated orange juice, ethanol, motor and electrical transformer. He even joined the select group of subsidies experts under the former GATT. He also stood out in conducting negotiations with the United States Government, which culminated in the Voluntary Restraint Agreements in the steel sector. He was a Brazilian delegate in the Tokyo Round of Multilateral Trade Negotiations.
Partner Marco César Saraiva da Fonseca holds a degree in Chemical Engineering from the Federal University of Rio de Janeiro and in Law from the State University of Rio de Janeiro. He began his professional life at the former Foreign Trade Department in Bank of Brazil, in the late 1980s, where he worked in the area of export promotion. Subsequently, after having transferred the foreign trade activities to the federal administration, first at the Ministry of Economy, Finance and Planning and then at the Ministry of Industry, Trade and Tourism, he worked in different areas. In 1995, he joined the recently founded Trade Remedies Department, in which he remained for about 23 years. During this period, he conducted and coordinated numerous trade defense investigations (anti-dumping, subsidies and countervailing measures and safeguards), and conducted dozens of on-the-spot investigations in Brazil and abroad. He held various positions as Coordinator of Investigations and General Coordinator for Intermediate Products. From 2008 to 2014, he held the position of Deputy Director, when he was appointed Director of DECOM, a position he held until his retirement from the federal public service in 2018. In addition to these activities, he represented the Brazilian Investigating Authority in several bilateral and bi-regional negotiating fora (Mercosur-EU; Mercosur-Andean Community; Mercosur-Peru; and FTAA) and, at the multilateral level, at the Rules Negotiating Group in World Trade Organization (WTO), during the Doha Round, especially as a Brazilian delegate in negotiations to improve the Anti-Dumping Agreement and the Subsidy and Countervailing Measures Agreement. He has represented DECOM at various WTO Rules Committee meetings and trade defense events at the invitation of the Governments of Japan, Thailand, South Korea, India and the People's Republic of China, as well as the WTO Secretariat. He also acted as the National Coordinator of the Mercosur Trade Defense and Safeguards Committee (CDCS). In the academic sphere, he was instructor in the training courses for new foreign trade analysts, promoted by the School of Financial Administration.
AS Consultoria has a team of professionals graduated in Law, Economics and Accounting, duly qualified to act with the necessary efficiency and to achieve the best result for its clients in trade litigation. It is, in fact, a boutique specialized in foreign trade, with a huge concentration of services in the areas of dumping, subsidies and countervailing measures, safeguards and tariff and non-tariff barriers applied to imports by foreign and Brazilian governments, resulting from the high specialization of its multidisciplinary technical staff, and its international capillarity.
The company has represented domestic and foreign exporters, importers and domestic producers in complex trade disputes over the past three decades, operating in both Brazil and several other countries such as the United States, Canada, the European Union, Australia and Argentina.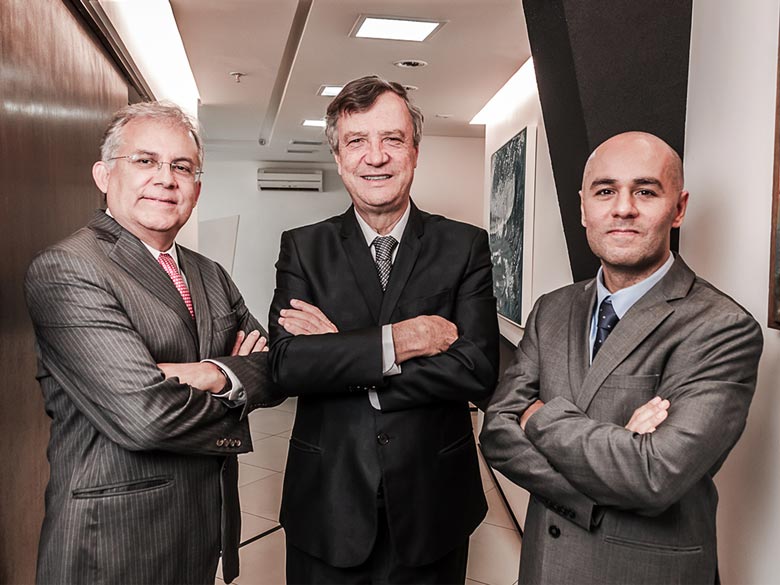 Its team has vast experience in matters related to unfair trade practices, with emphasis on dumping, subsidies, countervailing duties, safeguards and other trade barriers. AS Consultoria defended several exporting sectors of the Brazilian economy. It is worth to mention it has represented the main exporters of Brazilian flat steel in numerous investigations of dumping and subsidies and countervailing measures conducted by the US Department of Commerce and by the Canadian Border Services Agency. Moreover, it has also represented the largest Brazilian exporter of orange juice in administrative reviews related to the anti-dumping duties imposed by the US Department of Commerce. At the WTO level, the company gave technical support to the dispute against the United States, when Brazil succeeded in condemning that country for the unfair practice of zeroing. It successfully participated in anti-dumping administrative reviews on seamless steel pipes conducted by the US Department of Commerce, which culminated with the termination of the measure against the Brazilian exporting company. Also, it has defended Brazilian shoe exporters before the Government of Canada, when succeeded in terminating the anti-dumping investigation without the imposition of any duty. AS Consultoria successfully represented Brazilian exporters of electric motors and transformers, voile fabrics and towels in anti-dumping investigations initiated in Argentina. In the domestic arena, it represented Brazilian producers in several anti-dumping and CVD investigations. The anti-dumping investigation against footwear from China was one of the most emblematic case conducted in Brazil, even including world famous sports footwear brands, represented by some of the Brazilian largest law firms, which culminated with the imposition of a recently extended five-year anti-dumping duty, effective until 2021. The glass sector was also represented by AS Consultoria in different actions: float glass, mirrors, automotive glass and table glassware. AS Consultoria is also very experienced in defending foreign exporters (from US, Europe, South America, Australia) in trade remedies investigations conducted in Brazil. It is worth to mention the defense of a United States and Europe based company against successive anti-dumping investigations on a certain thermoplastic. Similarly, it has acted in defense of an Australian steelmaker, in an anti-dumping proceeding in Brazil, which ended without the imposition of any duty. Additionally, it triumphed by representing the Italian-German steel group, a stainless-steel producer, which resulted in the exclusion of these exporters from the action. Professionalism combined with a high expertise accumulated over the years allows the company a global view on issues related to barriers to the trade in general, which makes it a valuable asset.
Receive Diagnosis of Commercial Defense Action for your Product
SHIN CA 01 Bl. A Conjunto 139 Ed. Deck Norte
CEP 71.503-501